On Thursday October 18, we were invited to a private training session with Jumpman at CENTRE23 in Toronto to trial the new AJ XXXIII.
The XXXIII is the latest iteration of Jordan Brand's signature basketball line, inspired by flight utility and the first basketball shoe to feature Nike's new FastFit technology (FastFit has been previously used in premium Nike golf shoes).
What is FastFit?
FastFit is a manual lacing system that aims to simplify the lacing process. This is Nike's solution to find a better fit on a universal, accessible model, taking cues from previous work done on the Nike HyperAdapt.
How does FastFit work?
Loops on the tongue and heel allow easier entry.

The tightening system activates its cables with a single tug of the forefoot strap, creating a full 360-lockdown.

Eject by pulling the side loops to release the cables
The Shoe
The AJ XXXIII is inspired by space flight suits and implements this into its utility-led design. Following the theme of featuring subtle design cues from past models, this shoe includes the use of "Nike Air" on the heel tab, as we first saw on the OG AJ III.
"Applying FastFit allowed for a balance of art and science in the design," says Tate Kuerbis, one of the designers of the shoe. "We were inspired by how space suits look and function."
Under the AJ XXXIII , there is a window that reveals the mechanisms of FastFit and actually allows you to see the cables moving as they are tightened / loosened - another cue from Jordan Brand's penchant for visible tech.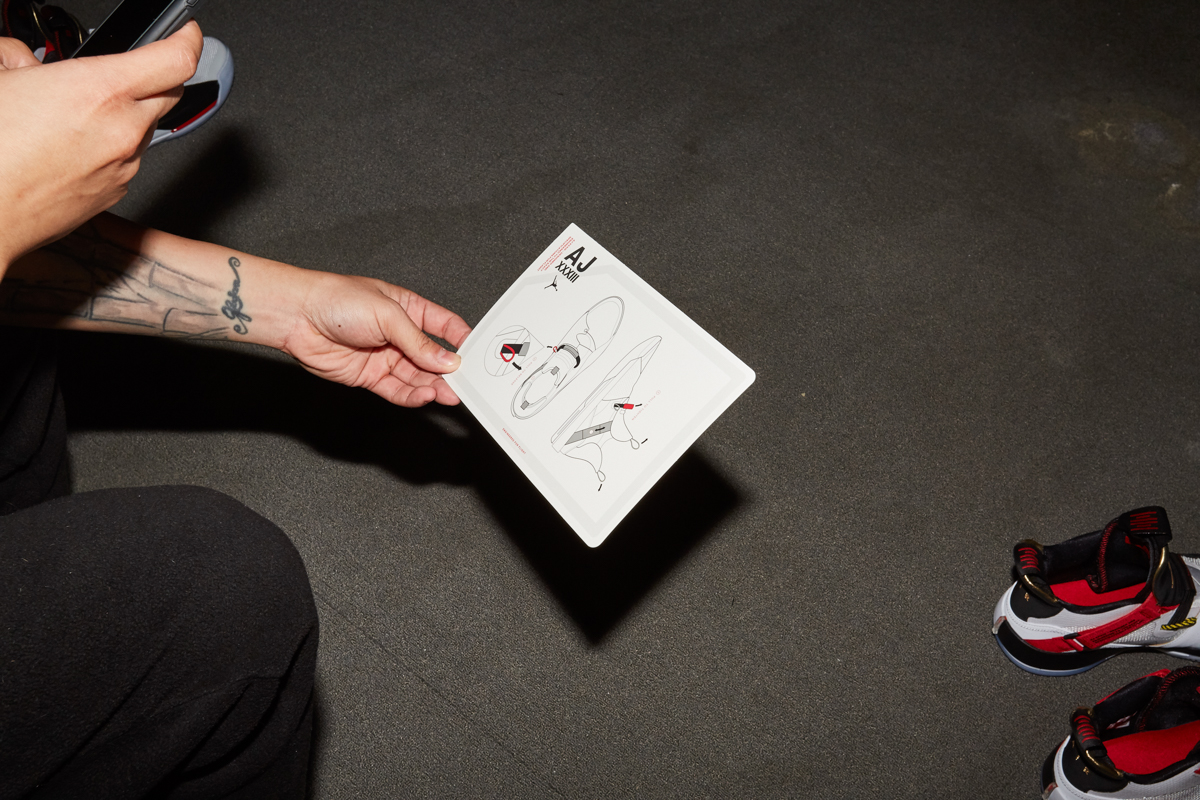 "Flight has always been part of our Jordan DNA."
- David Creech, Jordan Brand VP of Design
Consensus is a huge nod of approval for the fit and performance of the shoe. The cable system made lockdown feel great - everything felt so secure.
Majority of us felt going up half a size was helpful, especially if you have wide feet. The FastFit lacing system is excellent, but, as with any new tech, requires some trial and error to find the right fit. You can easily reset the tightness by pulling the side loops to release the cables - basically ejecting yourself from the shoe without having to remove it. There is also a velcro system at the ankles for additional support.
Aesthetically, the AJ XXXIII is a good-looking basketball shoe. It has a futuristic feel that still looks wearable. While observing consumers, we found that even non-basketball enthusiasts took interest in it.
This shoe is a huge leap forward from its previous models and potentially their best basketball shoe to date.
Release Info: October 18, 2018 at select retailers (306 Yonge in Toronto).